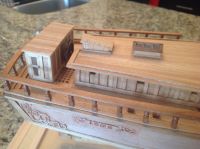 "Leon" - Full Constructional Drawing for Plank and Frame Model
By Harold A. Underhill, A.M.I.E.S.
Price:

£9.00
Item attributes
ISBN:

n/a
Item details
Plan: 920
Scale: ⅛" – 1'0"
Size of Sheet: 30½"x21"
Pictures: With thanks to David Holehouse for his permission to feature his Leon model, nb: ship built at 200% of size.
Notes: Plans 915 - 917 are sufficient for small scale work, but where full detail is desired the full set of drawings are advisable.
302 tons, built 1880 at Laurvig, Port of Registry, Porsgrund, Norway. Leon is a very pretty little brigantine with lofty sail plan and extremely pleasing lines. Her hull layout is very interesting, with sufficient panelled work and ornamental carving on the various deck erections to please the real craftsman.
The drawings, which were prepared by Mr. Underhill when building a fully framed model for his own Collection, are complete in all detail, including separate drawings of deck fittings, Masts and Spars, with rigging details showing the position and use of all blocks and gear. The plank on frame model sheet 920 contains all the necessary data, including table of scantings, true elevations of all cant frames, frame construction details etc.
These drawings should appeal to those wishing to construct a really first-class plank-built hull, without the elaborate carving and ornamentation of the naval vessel. Mr Underhill's own model was completely rigged, but sufficient strakes were omitted from below the waterline on one side to disclose the internal construction.
Plans in this series: 915 916 917 918 919 920
Consturction help: Plank-On-Frame Models Vol I Plank-On-Frame Models Vol II
Catalogues: Sailngs Ships Powered Craft