Ships Business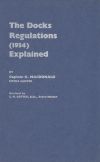 The Docks Regulations 1934 Explained
Bibliographic Notes The Regulations are applicable to docks, wharves and quays, and to any machinery or plant used in the process of loading, ...
Price:

£4.00

Business and Law for the Mariner
Bibliographic Notes The purpose of this book is to inform mariners about the law. What law applies to the mariner. How it applies to the ship ...
Price:

£60.00