Oil Transport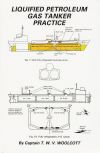 Liquified Petroleum Gas Tanker Practice
There is a growing sea traffic in liquified petroleum gas, the handling of which calls for great diligence and competence, not only at the terminals, ...
Price:

£35.00

Manual of Oil Tanker Operations
This title can now be purchased as an eBook. Please follow this link to purchase as an eBook. Bibliographic Notes This ...
Price:

£45.00