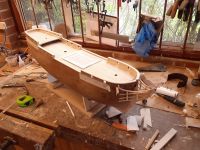 74-Gun Two-Decker (Circa 1813) - Lines Drawing and Detail Drawings of Anchors, Guns, Carronades, etc.
By Harold A. Underhill, A.M.I.E.S.
Price:

£10.00
Item attributes
ISBN:

n/a
Item details
Plan: 1050
Pictures: With thanks to John Lodge for his permission to feature his model.
Scale: ³⁄₁₆" - 1'0" (Length of hull: 36½")
The two-decker of the sailing navy forms an ideal subject for a first-class model, and the following plans, compiled from authentic original draughts from which ships were actually built, supply all the information for such a model.
The drawings are plans of the full size ship, not those of a model, and are true to the original in every way, the only difference being that the original plans have been interpreted into modern drawing technique, and items originally in outline only have been drawn in detail. The production of ship plans instead of model drawings means that the information is there for a true scale model, but for more simple work the builder has only to omit the detail they do not require.
The set includes working drawings of each individual component forming masts, spars, tops, cross-trees etc, but for simple models these sheets can be omitted.
Two alternative sail and rigging plans are available, one with all the sails and gear, the other showing the vessel without sails, the yards down on the caps and much of the lighter running rigging un-bent.
Ships of this class include the two-deckers: Black Prince, Cornwallis, Redoubtable, Wellesley and Melville.
Plans in this series: 1050 1051 1052 1053 1054 1055 1056
Construction help: Plank-On-Frame Models Vol I Plank-On-Frame Models Vol II
Guide to Masts and Spars: Details of Masts and Spars, plan 29
Catalogues: Sailing Ships Powered Craft