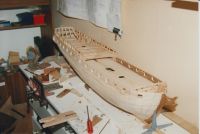 40-Gun Frigate (Circa 1790) - Six Cross-Sections and Armament Tables
By Harold A. Underhill, A.M.I.E.S.
Price:

£10.00
Item attributes
ISBN:

n/a
Item details
Plan: 907
Scale: ⅛" – 1'0"
Size of Sheet: 38"x29"
Pictures: With thanks to Mike Allen for his permission to feature his 40-Gun model, nb: ship built at ¼" - 1'.
Notes: Plans 906, 907 and either 908/911 are sufficient for small scale work, but where full detail is desired the full set of drawings are advisable.
This sailing frigate has figured so largely in our Naval History that its appeal to the model builder is only natural. These drawings will enable the enthusiast to produce a really accurate scale model of one of these vessels.
As all students of historical Naval Architecture will appreciate, it is almost impossible to obtain complete details of any one ship of this period. In accordance our policy of not issuing drawings as named ships unless certain of all data, this set is offered simply as representative of the class. The principal source of inspiration has been the captured French Frigate La Pomone (1794) and the Endymion which was largely copied from it – but due to the lack of detailed information these plans are not true to either of these vessels.
There are two alternative Rigging Plans available; one showing sails and all running rigging, and the other is the same plan but with the Yards down on the caps and the lighter running gear sent down. The plans have been compiled from the know spar dimensions of similar vessels of the period while the lead of all running gear is based upon Steele 1794.
The detail sheets include separate drawings of each spar and fitting, together with the location and use of all blocks and rigging.
Plans in this series: 906 907 908 909 910 911
Consturction help: Plank-On-Frame Models Vol I Plank-On-Frame Models Vol II
Catalogues: Sailngs Ships Powered Craft