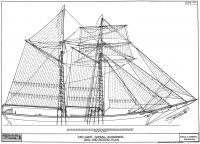 Two-Mast Topsail Schooner - Sail and Rigging Plan
By Harold A. Underhill, A.M.I.E.S.
Price:

£9.00
Item attributes
ISBN:

n/a
Item details
Plan: 860
Scale: ¼" to 1'0"
Notes: Plans 860-862 are sufficient for small scale work, but where full detail is desired the full set of drawings are advisable.
The Topsail Schooner, once such a common sight all round our coasts, has now almost completely vanished and many lovers of these grand little ships will be interested in accurate plans of them. The plans are very detailed and will produce and exceedingly fine model 31" overall.
Plans in this series: 860 861 862 863 864
Consturction help: Plank-On-Frame Models Vol I Plank-On-Frame Models Vol II
Catalogues: Sailngs Ships Powered Craft