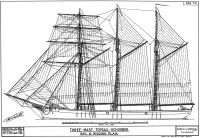 Three-Mast Topsail Schooner - Sail and Rigging Plan
By Harold A. Underhill, A.M.I.E.S.
Price:

£9.00
Item attributes
ISBN:

n/a
Item details
Plan: 855
Notes: Plans 855-857 are sufficient for small scale models, but where full detail is desired the full set of drawings are advisable.
These plans show the schooner as she appeared when coastwise sail was at its best. The plans are full size for a model 25 ½ " over all.
Plans in this series: 855 856 857 858 859
Consturction help: Plank-On-Frame Models Vol I Plank-On-Frame Models Vol II
Catalogues: Sailngs Ships Powered Craft