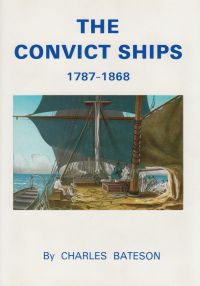 The Convict Ships of Australia 1787-1868
Price:

£20.00
Item attributes
ISBN:

978-0-85174-195-6

Published date:

First published 1959-2nd edition 1969
Item details
Bibliographic Notes
So little has been written about the ships which carried convicts from the British Isles to Australia that this book opens up an entire new field of maritime history.
For the first time, the strange and often macabre story of these vessels is told in detail. From authoritative sources, official and unofficial. Charles Bateson reconstructs not only the voyages themselves, but also the administrative system under which the ships were selected, provisioned, manned and despatched with their miserable human freight to face a 13,000 miles voyage over tempestuous and largely uncharted seas.
Mr. Bateson describes the duties of the various officers, tells how convicts and guards lived on board these prison ships and reveals the fearful toll taken of men and women by disease and overcrowding. Portion of the book is devoted to the more remarkable voyages from the First Fleet in 1787 to the Hougoumont, the last convict ship to Western Australia, in 1868. It is an amazing record of plot, counterplot and mutiny, of shipwreck and disaster and, on the other side of the picture, of the gradual conquest of disease at sea.
The appendices furnish a complete list of all the ships which carried prisoners to Australia, with the names of their masters and surgeons, their departure and arrival dates and the number of prisoners each carried.
Profusely illustrated by plates, many of which have never before been published, "The Convict Ships, 1787-1868" is not only a work of permanent historic value but a great human document which must fascinate everyone interested in ships and the sea.
CONTENTS:- For their Country's Good · The Contractors · The Naval Agent and the Guard · The Surgeons and Surgeon Superintendents · The Convicts · The Transports · The Voyage of the First Fleet.
APPENDIX:- Convict Ships to N.S.W., 1801-1849 · Convict Ships to V.D.L., 1812-1853 · Convict Ships to Port Phillip, 1803-1849 · Convict Ships to Norfolk Island, 1844-1847 · Convict Ships to Moreton Bay, 1849-1850 · Convict Ships to Western Australia, 1850-1868 · Convicts Embarked and Disembarked, 1801-1868.
"Charles Bateson has made an exhaustive research into a neglected field of maritime and Australian history. The result, is a worthwhile addition to the story of the sea." - Lloyd's List.
"The author's researches have led him into many by-ways and his book is not only an important addition to Australian history but to the annals of sail." - The Age Literary Supplement.
"In Mr. Charles Bateson's "The Convict Ships 1787-1868" I found the answer to my questions and grim, indeed, they are. From Log Books and documents he has composed a fascinating narrative describing in detail the voyages and the system in which the ships were selected, manned and provisioned for the work they had to do". - The Journal of the Honourable Company of the Master Mariners.