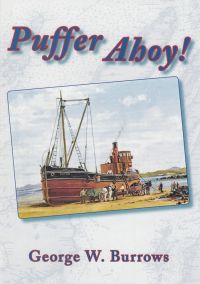 Puffer Ahoy!
By G.W. Burrows
Price:

£20.00
Item attributes
ISBN:

978-0-85174-419-3

Published date:

First published 1981- Reprint 2006
Item details
Bibliographic Notes
Puffer Ahoy! is a book about the puffers on the West Coast of Scotland. The first part of the book consists of short stories about various puffers and the journeys which they made. The second part, a unique collection of old photographs and paintings, some in colour, showing these puffers. Finally, there is a small section of old photographs, showing other older forms of transport in the early 1900's.
Unfortunately, Mr. George Burrows died before his book was published. The Author had spent many hours collecting old photographs and he appreciated all the help he had received from his many friends.
Available Plans: We are pleased to confirm that you can build your own version of this beautiful ship using plans 1119 and 1120