Search
You searched for: H.G. Williams

203 x 127 mm. Built by Lithgows Limited for Glynafon Shipping Co Ltd of Cardiff. (Managers: Idwal Williams & Co Ltd) Launched: [N/A] ...
Price:

£4.50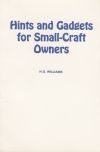 Hints and Gadgets for Small Craft Owners
Bibliographic Notes This book is written by an amateur, for amateurs, in the belief that those owners of small craft, who delight in working on ...
Price:

£4.00