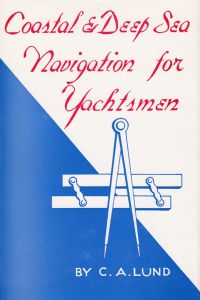 Coastal and Deep Sea Navigation for Yachtsmen
Price:

£1.80
Item attributes
ISBN:

978-0-85174-119-2

Published date:

First published 1934-6th edition 1972
Item details
Bibliographic Notes
Written primarily for those who navigate their own vessels around the coast or across the seas. The book does not go deeply into abstruse problems of nautical astronomy or spherical trigonometry, but sufficient explanation of these subjects has been given to enable the reader to work his sights with a proper understanding of the principles involved.
Section I - Coastal Navigation:
Compass Course Correction · On Fixing Position · Patent Log and Chart Reading · Tides and Tidal Streams · Rule of the Road.
Section II - Deep Sea Navigation: The Sextant
On Finding the Latitude · Pole Star Sights · Traverse Table · On Finding the Longitude · Position Lines · Star Position Lines · Latitude by ex-Meridian Altitude · Deviation of Compass by Amplitude and Azimuth · Sight Reduction Table method of position lines.